Whether you plan to keep your garden furniture indoors over the winter or leave it outside, proper cleaning and protection from harsh weather conditions will keep it looking beautiful even after a long time. Check out how to take care of garden furniture made of wood, metal, wicker and plastic so that it will be ready when spring comes again.
How to clean and maintain wooden furniture?
When exposed to ultraviolet rays and moisture, wooden furniture can fade, crack and rot. Paint them with latex paint or seal them with a clear water repellent or translucent waterproof stain. This will protect your furniture from moisture, sun, mold and dirt.
Depending on which paint or sealer you choose, you will most likely need to sand the surface and re-protect it every 1-3 years. Check the manufacturer's instructions to find out when you need to apply another coat. As soon as you notice signs of mold, remove them immediately. Gently scrub the furniture with a mild soap solution or sand with fine-grit sandpaper. Remember to wear gloves every time. Discard brushes, rags and sandpaper after use. This will prevent the spread of mold spores. Once the wood is clean and dry, apply a new coat of water-resistant paint, stain or waterproofing.
Remember to thoroughly clean your furniture of dirt, algae, bird droppings and lichen at least once a year. Only hardwoods (eucalyptus, oak, acacia, and teak) do not require thorough cleaning, but they will turn gray over time. If you want to keep the original color, however, paint it with a special oil once a year. Coniferous woods such as pine, on the other hand, should be treated with a preservative, paint or oil. Use a clean brush for this.
How do I care for wrought iron and steel furniture?
Remember to thoroughly clean your furniture once a year. This way there is less risk that rust will appear. Wash them with soapy water using a cloth or brush, then rinse with clean water. If you notice any signs of rust, get rid of them immediately. Grind them off with steel wool or a hand grinder, depending on how large the area is. Clean it again and then fill any gaps with epoxy putty. Sand again, and finally prime and paint the furniture. This will help you restore its former glory.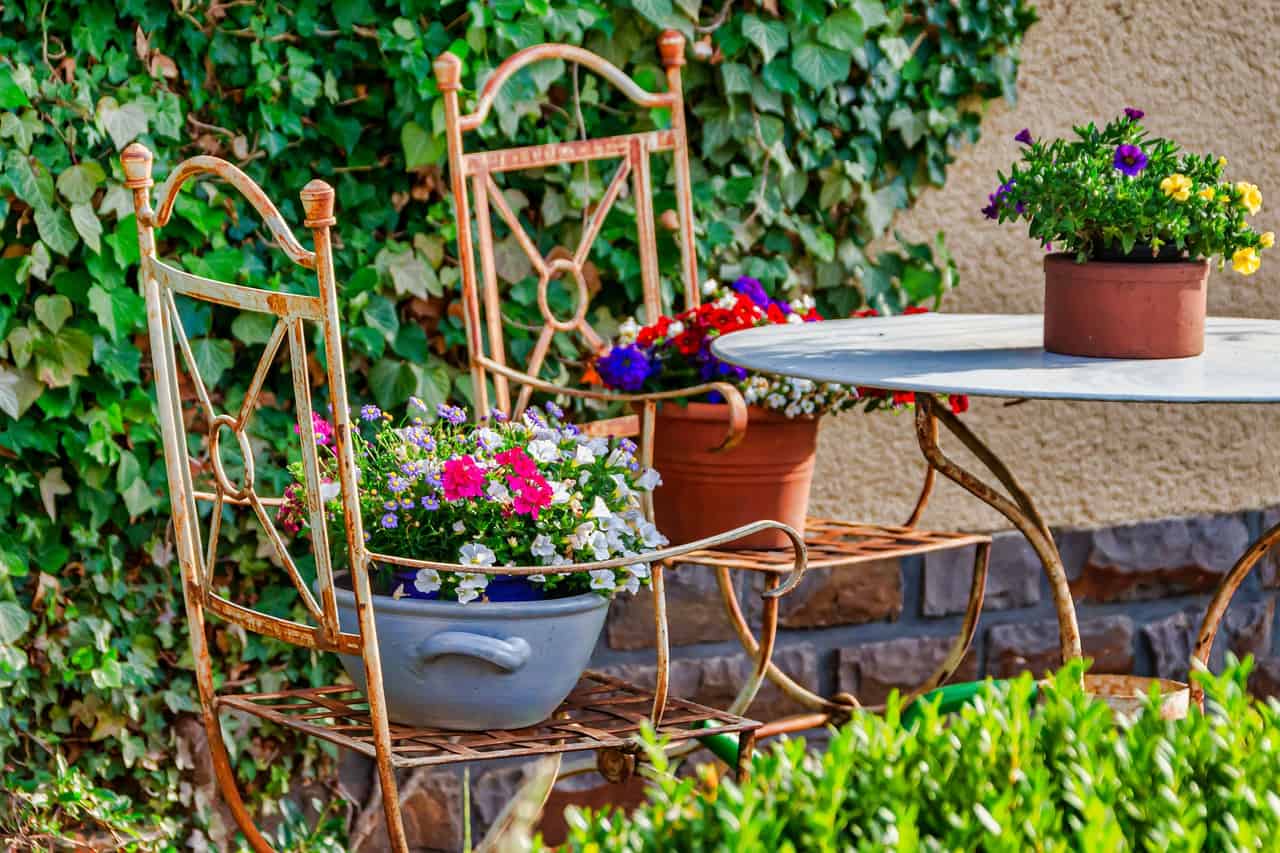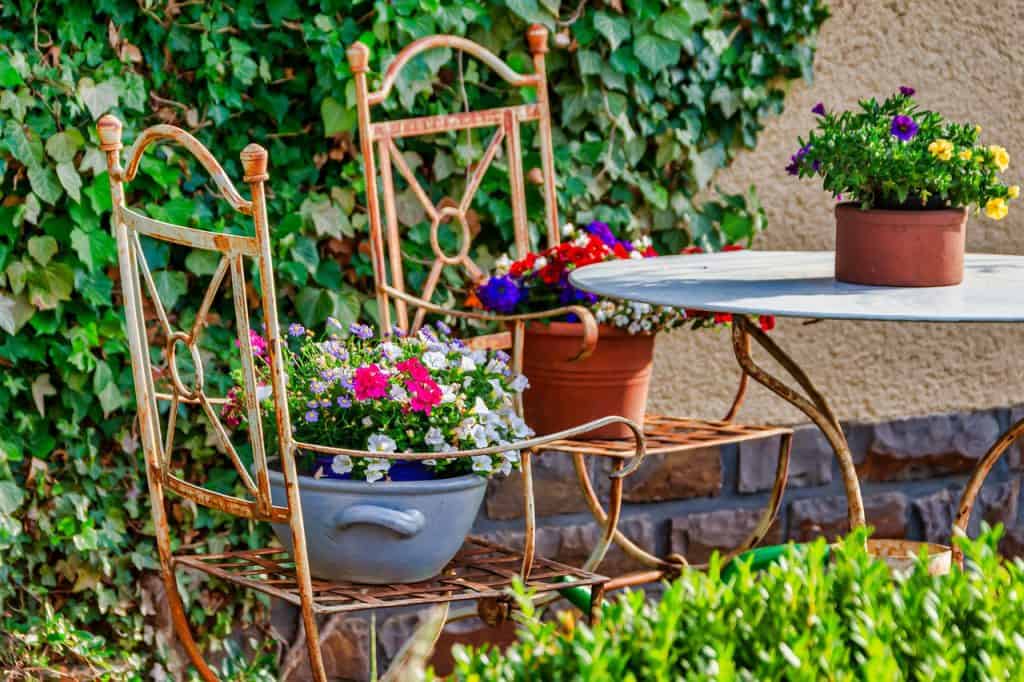 How to take care of aluminum furniture?
Although the mentioned furniture does not rust, you still need to take care of it before winter comes. Remove dirt and leaves with a soft bristle brush. Then wash off the remaining dirt and stains with hot, soapy water. Rinse with clean water and polish the metal with a vinegar solution using a soft cloth. Do not use sandpaper, as you can damage the aluminum. Finally, apply car wax to your furniture for extra protection.
How do I clean and maintain plastic patio furniture?
This furniture is usually made of polyvinyl chloride or polyethylene, two plastics that contain additives to protect against ultraviolet rays and fungi. To clean them, use a mild dishwashing liquid and brush. For tough stains, use a 1:10 solution of chlorine bleach and water.
How to care for wicker furniture?
Traditionally, wicker furniture is made of reed, rattan, bamboo or coated paper (protected by a layer of paint or clear lacquer). Remember not to put them outside. Under the influence of moisture and UV rays they can easily warp and crack. Modern wicker furniture that you can put outside is usually made of PVC or polyethylene. Make sure they are coated with a waterproof paint or varnish. Don't leave them outside overnight. Paint them with varnish at least once every two years to protect them from the weather. You can apply a coat of tung oil to give your furniture extra protection
If you leave your outdoor furniture outside in winter, be sure to invest in waterproof covers. This will protect them from moisture.