The great advantage of boxwood is that it is an easy plant to grow and care for. However, it is worth knowing in which conditions it is best and what treatments should be used to make it look the best.
The evergreen boxwood is a shrub which has decorated gardens, flowerbeds and balcony pots for years. Its thickly growing leaves and stems, which are easy to model, make the boxwood often used as a hedge or plant sculpture. A characteristic feature of boxwood is that it does not lose its leaves even during the hardest winter frosts. It is also a plus that we can form the plant in any way we want, so it is easy to create an exceptional and unique space in the garden or on the balcony.
>> Read also: Year-round shrubs for the garden – TOP 10
What conditions are best for boxwood?
The best way to make boxwood look nice and not give the gardener too much trouble is to plant it in optimal conditions for it. First of all, provide it with suitable soil, preferably containing clay, although the plant will thrive in any substrate. Boxwood likes to grow in sunny places and in partial shade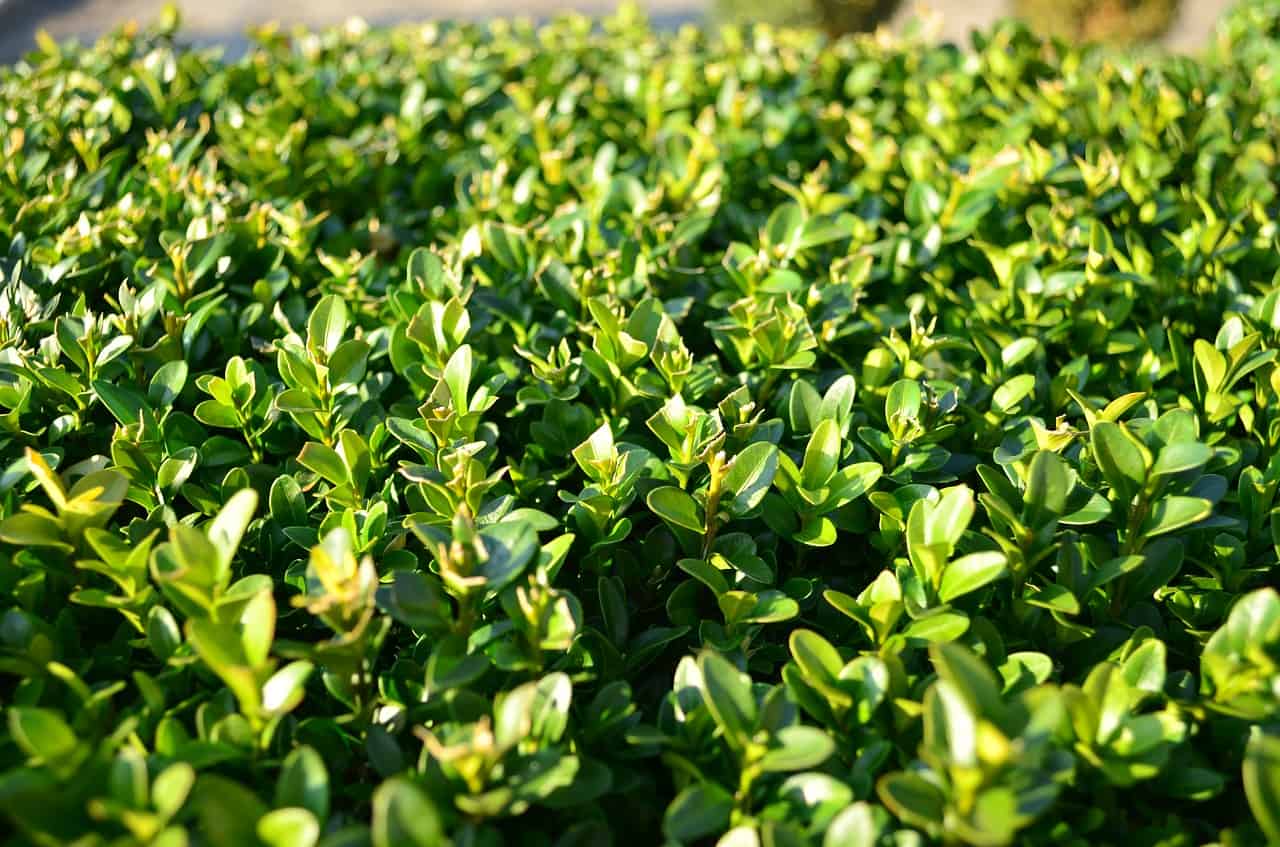 It is a shrub that can adapt itself to surrounding conditions, so it can easily withstand temporary drought. However, it should not be over-watered, especially when grown in pots, boxes or containers. Overwatering can lead to root rot, which in turn leads to yellowing of the leaves. The best practice is to water boxwood shrubs regularly with a small amount of water. Be sure not to pour water over the leaves when supplying water to this plant. Shrubs need to be fertilized, especially those that have undergone heavy pruning and shaping. The best time to fertilize boxwood is early spring, when the plant needs more moisture and nutrients.
How to plant boxwood in the garden?
Thanks to the fact that boxwood is a very popular plant in Poland, finding seedlings should not be a problem. The easiest way to buy them is in larger DIY stores, in the gardening section. When choosing seedlings for your garden you should pay attention to the color of the leaves – they must be vivid green – and to the adequately developed root system.
Planting boxwood is simple and does not differ from the way you plant other shrubs. First, dig a hole that corresponds to the size of the plant's root. Then put the seedling into the hole and cover it with soil. Finally, it's a good idea to compact the soil well so that the boxwood is accepted and takes root. After planting the plant, water it generously.
There is no single period when you should plant these shrubs, the only recommendation is that you should not do it in winter and late fall. Seedlings are best planted in a sunny location. If the bushes are possibly to create a hedge, it is worth planting them, maintaining the appropriate spacing. The gap between the plants should not be less than 20 cm. In case the boxwood grows too big it can be easily transplanted to another place
Care for boxwood
Growing boxwood is very easy, so it's an excellent plant for the home garden or balcony. After the cuttings are accepted and properly rooted, boxwood quickly begins to grow. It is good to water it regularly during this time, especially in hot weather. The most important care which should be done by every good gardener who has boxwood in his garden is pruning it. It is not a necessary element, but shortening the length of the stems makes the bush grow nicely. Boxwood pruning is usually done twice a year. First the branches should be shortened in the spring, when there is no fear of frost at night. The second time the boxwood is pruned is in early fall to prepare the plant for the arrival of the winter and cold months. The best practice is to shorten the shoot to ⅓ of its length