After an unpleasant winter, spring and summer have arrived, and with them the return to spending free time outdoors. How to design a terrace so that it is both pleasant to look at and to sit on?
How do I design a terrace?
If you are already a happy patio owner and just want to spruce things up a bit, you don't have to try to make drastic changes, especially if you don't have any design or construction skills. Start with small changes such as replacing old furniture or adding decorative elements. However, if you don't have a terrace yet and are thinking of constructing one, leave it to the professionals. IdeaGarden is a company that not only builds, but also sells terrace boards, ideal for refreshing old floor panels.
What kind of boards to choose?
When choosing the terrace panels, we must take into account not only their visual aesthetics, but also usability. Wood exposed to constant contact with harmful weather conditions such as rain or snow must be durable enough to serve us for many years without any damage. Therefore, panels made of solid wood are a frequent choice of new terrace owners, because they are resistant to low and high temperatures and look beautiful. The problem is… they have knots. Not everyone likes the asymmetrical look of raw wood, with its many perfections. If you belong to this group of people, find a store selling composite boards in Warsaw. Such panels are made by mixing wood flour with polyvinyl chloride, resulting in a smoother surface and each board in a set looks identical. Thanks to this, they will be suitable for lovers of perfect-looking floors and fans of ecological solutions, because composite panels are completely environmentally friendly.
What about furniture?
When deciding what furniture should go on your patio, consider a few things: its durability, style, comfort of use and ease of assembly. Chairs and a table are especially important, as they are the ones you will use most. There's nothing worse than stepping out onto your patio with a cup of tea in search of a relaxing moment, only to come back inside five minutes later because the seat of our sofa is mercilessly hard. Therefore, make sure that your chairs are not only beautiful, but also comfortable.
Try to look for furniture with natural fabric upholstery. Avoid leather, especially artificial leather – in hot weather your skin will sweat, and it is not a pleasant feeling to be stuck to your own sofa. If you're worried that the fabric won't be strong enough to use on your patio due to rain or snow, think about installing a standing umbrella. This will be a great shield not only from water droplets, but also from the sun's rays. An online roadside store can help you find the right mounting screws to mount your umbrella.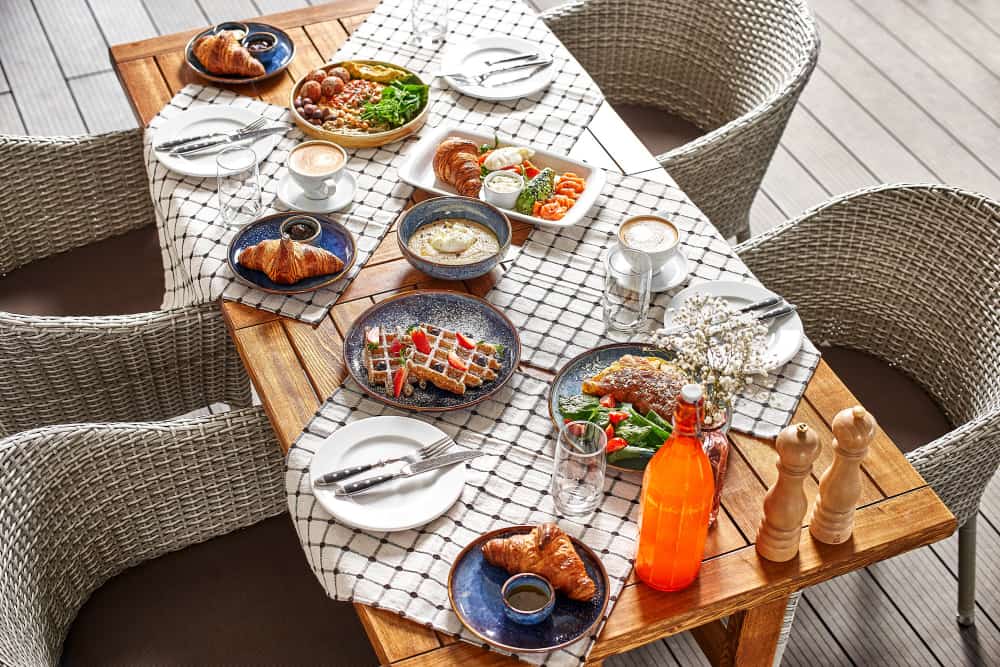 The icing on the cake – decorations
Any space seems much more polished when you decorate it properly. A terrace is supposed to be a place to relax and socialize with your guests, so the decorations you choose should reflect that. Try to create a cozy, homey atmosphere by placing soft pillows on the chairs and throwing a blanket or two over them. Also, rugs will bring a bit of varied texture to the overall design. For the patio, wicker rugs are a particularly good choice and will fit beautifully into any boho style home.