Awning, square umbrella, wooden or maybe glass structure? We present the most popular ways to cover the terrace
A place to relax and meet
The backyard terrace is a great extension of the living area, usually located on the side or back of the building, rather than from the street. It allows you to relax in comfortable conditions, spend time with your family or work outdoors.
When building it is worth carefully consider its dimensions, so that it does not turn out that it is too small to put anything on it. Additionally, the color scheme must match the elevation of the house and the garden, so that everything creates a harmonious whole. The terrace can be earthen, paved with paving stones, for example, wooden, concrete or composite.
Is it worth building a terrace canopy?
Fresh air comes with being exposed to different weather conditions. A breather or a barbecue can be spoiled by rain or harsh sunshine. That's when a patio canopy comes in handy, providing effective protection and allowing you to enjoy your space regardless of the weather. If our area is often subject to strong winds, it is worth thinking about extending the cover to the side walls.
As always, there is another side to the coin. You can't sunbathe on a covered patio, which can be problematic for some. The solution is either to sunbathe in the garden or simply to cover only part of the terrace. It is also possible to install a movable canopy, as mentioned below.
>> See also: Protection from the sun. Garden umbrellas
Types of patio roofing
Awning
This is the type of extendable canopy. The most popular models are 5 meters wide and are able to cover the terrace for about 3.5 meters. This is enough to comfortably sit on garden furniture with your loved ones. It weighs no small amount, because about 50 kilograms.
Here, however, do not forget to roll it up in strong winds. Modern models have a system with a sensor that does this automatically when it senses strong gusts. What is important, you need to remember not to roll up a wet awning, because it can become moldy.
Such a canopy can be single-colored, multicolored or in a variety of patterns. Certainly everyone will find something for themselves. There are awnings available on the market that look very elegant and stylish.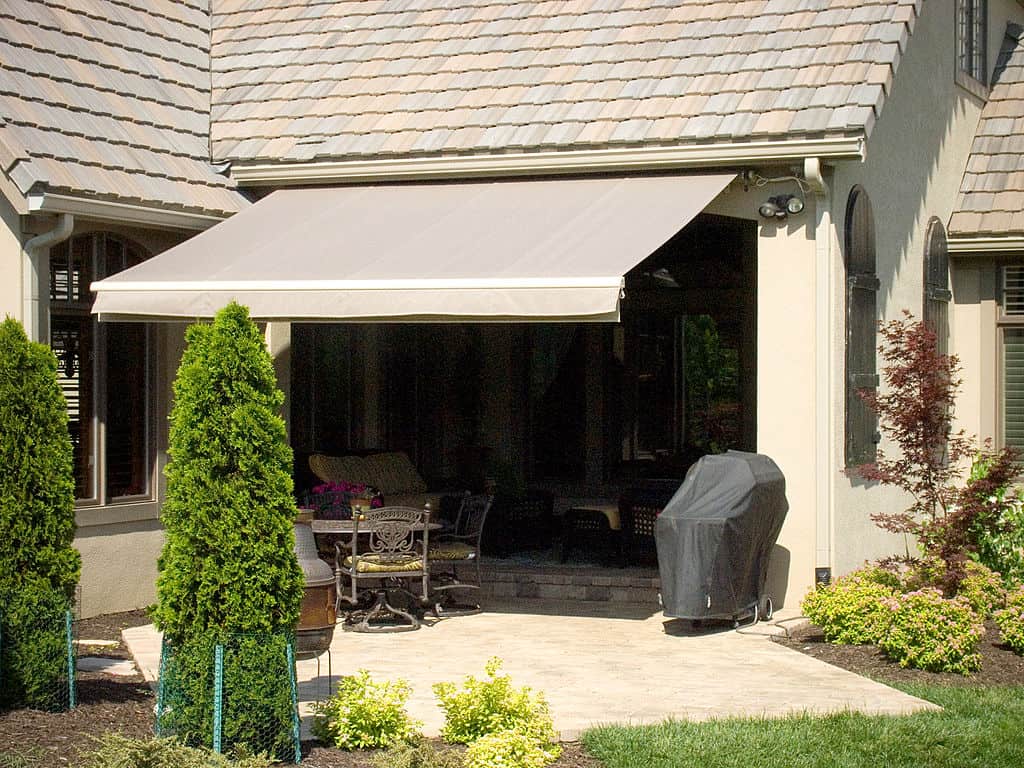 Square umbrella
A traditional garden umbrella is not a very practical or pretty canopy. It's much better to opt for a much larger, but also more durable square umbrella that resembles a tent. The wooden or metal frame may be of impressive size (to fit a recreational set), and the whole is covered with fabric limiting the penetration of sun rays. To create even better atmosphere, you can install additional light curtains, straight from the Greek islands.
Wooden construction
Wooden terrace roofing is very solid, stable and resistant to any change of weather. It provides full protection from rain, snow or sun. Visible beams and a shed structure will create a great atmosphere. It is worth exposing these elements with plants or stylish lighting.
Here you still need to remember to use the highest quality impregnates that will protect the wood against moisture, swelling or cracking. This type of roofing offers great design possibilities and is a beautiful decoration of the property.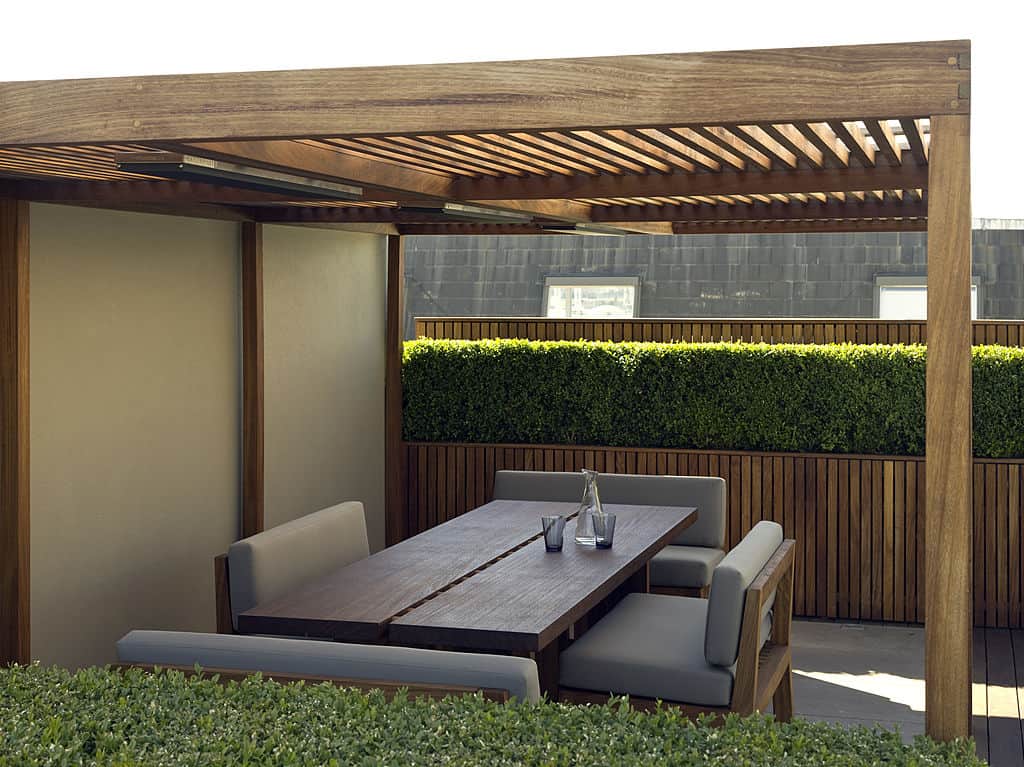 Glass roof
The trend is for all types of glazing, which can also be used for terrace roofing. In this case the construction must be very stable, as glass panels are quite heavy. This solution is also a kind of compromise – glass will protect from rainfall, but not from sunlight (unless we use milk glass or tinted glass). However, you should be aware that in winter it will be necessary to remove the snow.